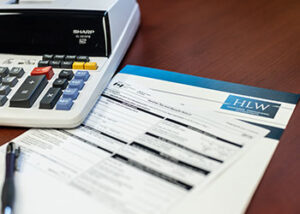 You may be surprised to learn that the accountants at HLW look forward to income tax season. After all, most accounting firms dread this time of year. At HLW income tax season is an opportunity to renew acquaintances with personal tax clients, many of whom have become good friends over the years. More than that, tax season is the culmination of many months of planning in which the goal of minimizing taxes for each and every personal tax client is met.
To further ensure the best possible results, every tax return is processed by a qualified tax accountant using a detailed, eighty-point checklist and subjected to a multi-stage review process. Taxation is an ever-changing discipline, with new legislation, court decisions and precedents determining the latest interpretation of the tax law.
The accountants at HLW take pride in maintaining up to date tax and tax planning knowledge by attending numerous tax seminars every year and maintaining an electronic tax database that is updated each time the tax software is accessed. All partners have taken in-depth tax courses. By working with taxation throughout the year, many hours are spent in researching the latest tax management techniques which we then apply to our clients' returns.